What is libxml
Libxml is an XML toolkit:
developped within the Gnome (gnome-xml) project, and also as one of W3C software
available under LGPL and the W3C IPR
Web page is at http://xmlsoft.org/
Packaged as libxml on most Linux distributions
Extremely portable (Windows, Unices, Embedded targets, PSion, ...)
Version 1.0 shipped beginning of 1999. Version 2.0 released beginning of April
conformance tested against the OASis test suite
Libxml main interfaces
The parser: does Well-Formeness and DTD validation, handle namespaces, can operate in pull or push modes
SAX: callback based interface (opening, closing, characters ...)
DOM tree: build a full in-memory tree followingly DOM interfaces
HTML: an HTML parser, generating either SAX callbacks or a DOM tree
Tree: routines to create/modify/save a DOM tree. Being able to save back parsed documents influenced a lot of the design of libxml
URI module
I/0 interface: modular with basic FTP and HTTP built-in
I18N handlers: defaults UTF8 UTF16 and ISO-Latin, uses iconv if found
XPath expression language to query XML documents
Debug module (including a small shell) and memory usage checking
Libxml architecture overview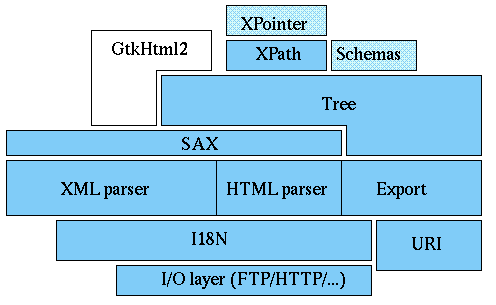 The DOM tree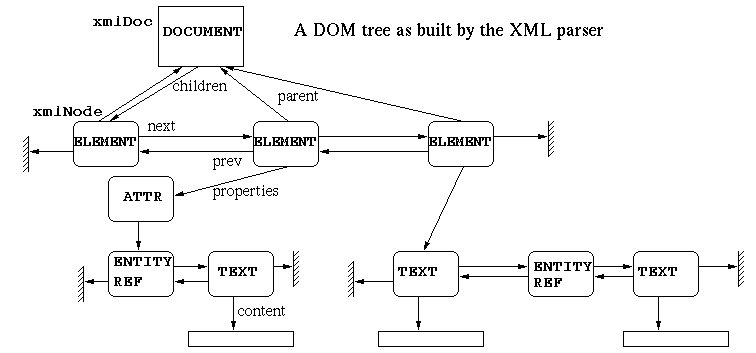 Internationalization
XML requires support for the following encodings:
UTF8: includes the ASCII range and use a variable lenght encoding for the rest of the full Unicode set
UTF16: uses 16bits chars (and sometime surrogates)
Libxml v1 was very weak in that area. Libxml2 has native support for both encodings and ISO-Latin-x
If iconv library is found at compile time, it is used to add support to a large (and expandable) set of encodings including the most common Japanese encodings.
Libxml can save to a specific encoding, if a character cannot be encoded it is converted to a char ref on the fly like ሴ
On the workbench
Started but not completed:
XPath: a sample and currently incomplete implementation
Todo:
XPointer: built on top of XPath allow to address any portion of an XML document
XLink detection: detect XML hypertext links and implement a simple link database
Schemas: new version obsoleting DTDs inherited from SGML
Add-ons worked on:
Gdome: the DOM interface
Gtkhtml2: new version of the Gnome HTML widget
Existing use
Libxml is already in use in a number of environments:
rpm2html/rpmfind: generation/maintenance/client for 300Megs of RDF encoded linux software package metadata
configuration files for programs, metadata (gconf, glade, nautilus)
data format for gnome programs (gill, gnumeric, gphoto, ...)
embedded system (TV desktop set)
handling of satellite images
However most users just don't give feedback, but patches are coming (and usually accepted !)
Future
Focuse on implementing future XML specifications
Would like a basic rendering widget (gtkhtml2)
Would like volunteers for an XSLT implementation