A Red Hat 9 system includes more than 3500 XML files
Storing graphics
SVG is making a hit !
It is getting the main format used for desktop icons
Endorsed by desktops environment (Gnome and KDE)
Scalable, high quality
Alpha channel composition
Processed as fast as rasterized formats
Gnome libraries librsvg, SVG editor sodipodi
Documentation == DocBook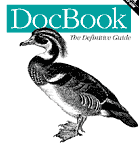 Most projects have switched to DocBook
Program documentation
API documentation, manual or extracted from code
HOWTOs, help files
Use libxslt/xsltproc or Saxon for XSLT
FOP/xmlroff/PassiveTeX for PDF generation
Documentation Tools
Help browsers use HTML pregenerated or on-the-fly
Indexing and cross-referencing is ad-hoc
Various front-end are available:
WYSIWYG editing is not there (yet ?)
XML for User Interfaces
XML can be used to describe the set of widgets
Allows a modular design of the application
Ease the development of the applications
Internationalization I18N support
Massive use of XML for documentation
I18N constraints, redundance, automation
Specific tools have been designed:
Act as bridges between XML and the PO I18N system
XML for network use
Some use of SOAP (libsoup) and XML-RPC but not widespread
Jabber use is growing
Layers above XML
XInclude early adoption to add examples within DocBook
Schemas validation is limited:
Not that many OpenSource tools
It is complex
Maybe Relax-NG will get more acceptance
XSLT usage is increasing to convert to HTML or between formats
XML Catalog deployment
OpenSource and XML shared concepts
The appeal of XML:
Openness:

self describing
exposing the content

API at the data level

just informal
or backed up by DTD/Schemas

Reuse existing parser code
The XML format can be reused
Pieces missing and uncertainties
FAQ#1: "What editor for XML/DocBook are available ?"
More standardization at the XML format level: OpenOffice ?
Will Java and C# get deployed there, to which extend ?
Licencing and Patent issues
OpenSource framework
Reuse of native libraries is key
Conclusions
Use of XML is very widespead in OpenSource projects
Documentation and data formats are the main target
Use of core specification, and mostly C/C++ toolkits
Questions and Answers