Goal
The Abstract of the current working draft says:
This specification defines the XML Pointer Language (XPointer), the language to be used as a fragment identifier for any URI-reference that locates a resource of Internet media type text/xml or application/xml.
And RFC 2396 states:
The semantics of a fragment identifier is a property of the data resulting from a retrieval action, regardless of the type of URI used in the reference. Therefore, the format and interpretation of fragment identifiers is dependent on the media type [RFC2046] of the retrieval result.
The principle
Is based on XPath, an expression language to query XML trees
Extends XPath types and add specific operations
Returns a set of nodes, points or ranges within the document
Should be able to express any user selection on the document
Architecture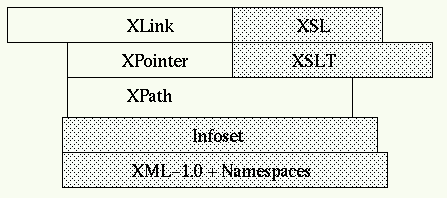 XPath quick description
XPath describes the syntax and associated processing to select groups of nodes and attributes within an XML document tree.
Is an expression language for XML trees
Uses selection axis to build the search semantic
Powerful, complex searches can be build
Can be extended in a given context (variables, functions).
Has a generic syntax and an abbreviated syntax for most used operations
XPath Context and Axis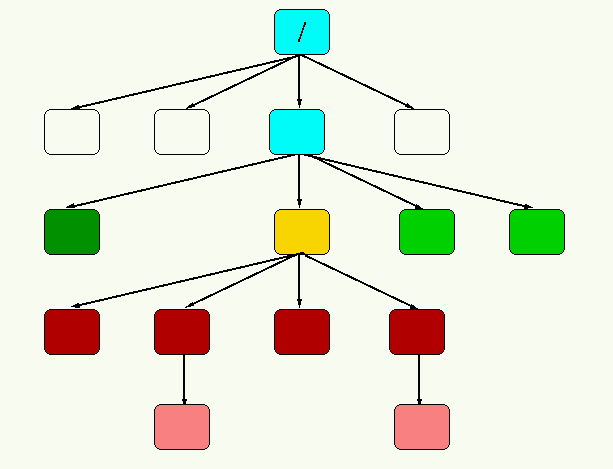 XPath examples
child::para selects the para element children
child::* selects the element children
/descendant::para all the para elements of the document
/doc/chapter[5]/section[2] the second section of the fifth chapter of the doc elements under the document root
/descendant::p[position()=last()] the last p in document order
//note[@type="warning"] all note elements that has a type attribute with value warning
XPointer
XPointer
Allow to address IDs with a simple HTML compatible syntax

#Intro

Reuse XPath and extends it
Uses an extensible construct to embed the expression

#xpointer(id(intro))

Should allow to express any reasonable "user selection"
Can return multiple non contiguous parts of the document
XPointer extensions to XPath
XPath Node concept is extended to nodes, points and ranges and associated cast functions
A string-range() function to address within (nodes) content
The functions here() and origin() to refer to the XPointer expression location and hypertext traversal
The functions start-point() and end-point() to address beginning and ending of locations.
The unique() function to detect absence or multiple return values.
Initialization of the XPath context
Restriction: no variable used in XPointer though XPath defines them
XPointer Examples
#xpointer(//*[local-name()='y' and namespace-uri()='http://www.foo.com/bar']) locates all the y elements from the namespace whose URI is http://www.foo.com/bar
xpointer(id("sec2.1")//p[2] to id("sec2.2")//p[last()]) selects the range from the second p child of sec2.1 to the end of the last p in sec2.2
string-range(//title,"XPointer") returns the set of ranges containing "XPointer" strings when they occur within title elements
A couple of issues
How do we detect IDs when not validating ?
Other fragment identifier syntaxes for XML based format ?
Current Status
Is a W3C Recommendation
No foreseen evolution
Is currently used by XPointer and XSLT
May be reused by XML Query and other future specifications
Is in Last Call status until Dec 27 1999
Is considered solid and expected to go to REC within a few months
Will be used by XLink (and all URI-References to XML data)
How you can help