50,000 feet overview
Transport: Jabber protocol
Language: Python
Probing: set of python modules + API
Triggers: set of python modules + API
Storage: local to nodes
Query: API to query data on the node
Monitor: mokup in GTK-Python
The big picture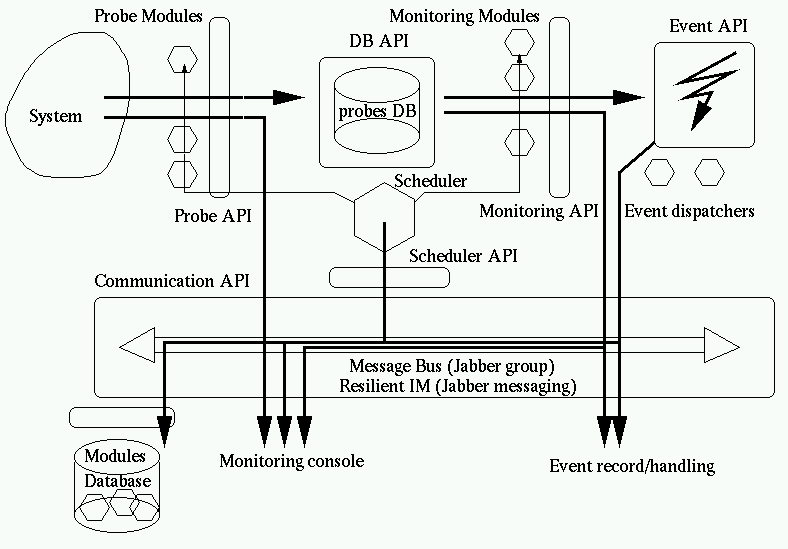 Jabber for transport
Instant messaging: permanent connection
Offers group communication and point to point
Homogeneous naming mechanism
Open specification (IETF RFC)
Free server with possibility of industrial solution
Lazy: evaluation in 03/2001
Jabber Implementation
Reimplemented minimal client capabilities in Python
XML-RPC on top of Jabber for direct and group queries
Encryption though SSL
Authentication is weak ATM
Code in CVS: rhn/playpen/Jabber
Extensible/Flexible infrastructure
5 Key APIs:

Probes: data acquisition
DB: data storage and query
Monitoring: checks for conditions and triggers events
Scheduler: on each client add/remove modules
Modules: dynamically query/check/load signed Python code

Transparent remote invocation through XML-RPC/Jabber
Probes
Base python class + derivation
Sampling frequency can be modified
Predefined: disk, load5, network use (and services ports)
Probes are named e.g. "base/rhn/load5"
Adding SNMP or custom samples should be easy (Python)
DB
Only local storage ATM
Using bsddb python interface to db (switch to DB3)
API: list, last, closest, averages, avgList
Auto cleanup by averaging after a month
rpmfind since january: 40MB of data
Monitoring
Module query the database for abnormal conditions
Basically an entry point call periodically
Anything scriptable in Python can be tested
Dynamically removable
Automatic dependancy to probes checked
Geneate events which are logged and dispatched on the group
Monitors are named too e.g. "rhn/base/netdev"
Scheduler
Keep a list of modules to call and the interval
Also check for incoming data from Jabber
Handle the XML-RPC entry points
Modules
PGP/GPG signed python modules
uses popen3 to only load verified modules
PBM: how to build the web ot trust (seed + delagation)
Allow to extend both probes and monitors
Module servers can be installed and queried for a given module
Monitor station
Mokup in GTK-Python
Shows basic interfaces, used to check the framework
"nearly" usable
I suck at UI work !!!
Monitor station screenshot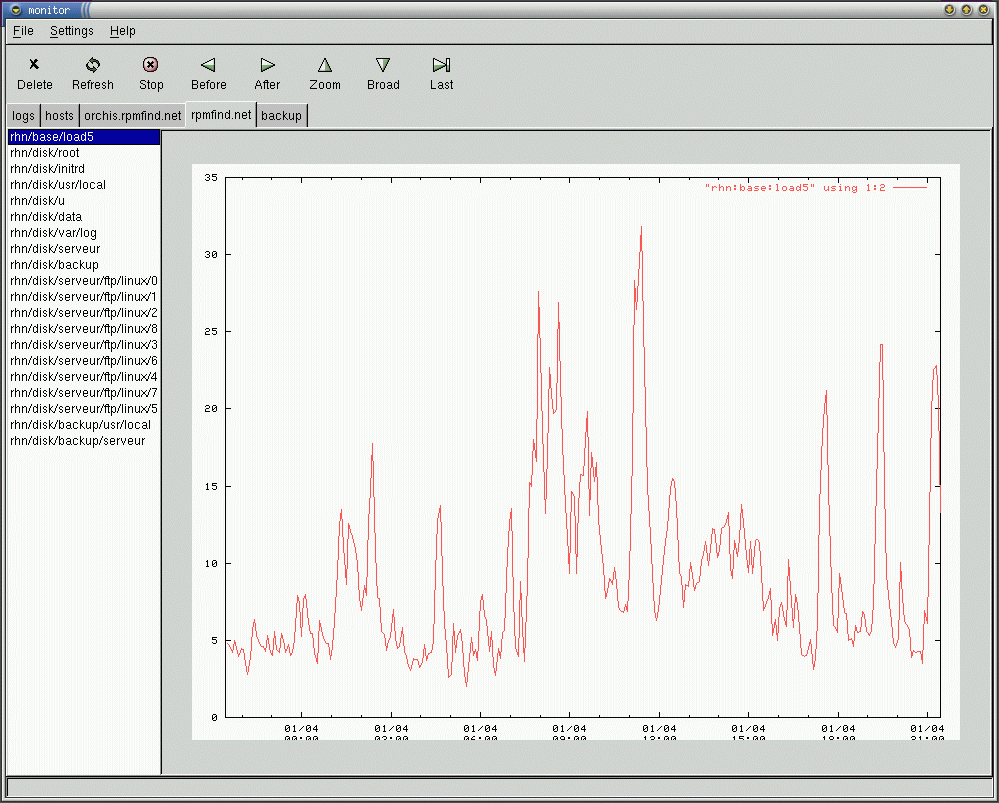 TODO List
Improve the network code for disconnect
Build an RHNAPP front-end connected to Jabber
Database for sampling ? DB3 ? Alternate storage nodes
Dynamic triggers: threshold on values and deltas
Packaging is weak
Testing, testing, testing